How New Generation Antioxidants Can Increase Tin Plating Performance

Tin plating can be defined as the process of depositing a uniform, thin layer of tin on various types of metal surfaces. The primary purpose of tin plating is usually of a protective nature and for this reason this type of process is often used in the food manufacturing sector. In this context, tin is particularly useful as it is hypoallergenic and therefore is the only metal that can be in contact with food and liquids without having any negative impacts.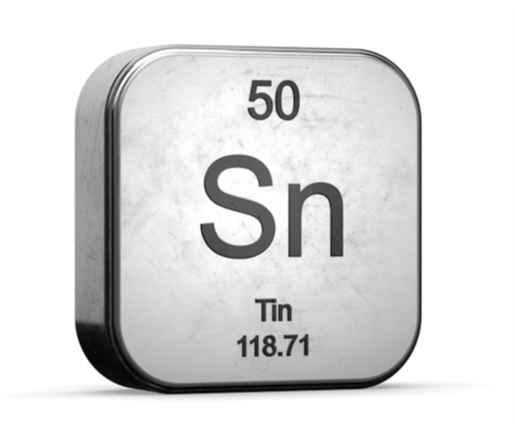 Tinning can be carried out directly on the surface of the base material following any pre-treatment operations (such as activation, degreasing and pickling). In other applications, a tin layer can instead be deposited on nickel or copper sub-layers, which in this case act as "barrier layers". This type of processing is very often used in reel-to-reel applications for the treatment of coils, connectors or other previously printed materials.
In most cases, layers deposited by tin plating give a shiny appearance to the metal surface, also thanks to specific additives that are added to the electrolytic solution. However, tin plating can also be used to provide the surface with a matte finish, also known as a "satin" finish. Tinning can be performed on rack, barrel or reel-to-reel systems.
Thanks to its many qualities, tin is used in several sectors, including:
Food and beverage

: containers for storing food and drinks, as already mentioned, thanks to the natural ductility, non-toxicity and corrosion resistance of tin.

Industrial: for example brackets, bars and screws.
Electronic: electrical junctions, electrical contacts, small solderable connections.
Tin plating of metals is governed by the UNI-ISO 2093, UNI 5083 and UNI 5701 regulations.
Technic has been active for a long time in the tin plating sector, providing a wide range of both bright and matt/satin solutions and it has become one of the most well-known companies for this application in the chemical manufacturing sector.
In particular, thanks to Research & Development projects increasingly focusing on the study of new processes and technologies, the Technic group aims to improve the quality and performance of its treatments, in full compliance with increasingly demanding environmental regulations, such as REACH and SCIP in Europe. In fact, an increasingly consistent part of our clientele is interested in safer, eco-friendly and carcinogenic-free processes. Through its research and production site around the world, Technic offers useful solutions to the entire production chain, with high-performance and eco-friendly processes and systems for all metals.
For example, Technic was one of the first companies to devise a product that allows the slowing of the degradation from divalent tin (Sn 2+) to tetravalent tin (Sn 4 +), namely Techni Antioxidant Solution 2. As further R&D projects increasingly focused on developing safer and carcinogenic-free products, Technic developed a new component of the same type, called Techni Eco Antioxidant. This is also an antioxidant used for preventing the oxidation of tin as well as inhibiting the formation of sludge due to the presence of tetravalent tin. However, the main innovative feature of Techni Eco Antioxidant is that it is completely non-toxic, non-carcinogenic and free of SVHC substances (i.e. substances considered particularly dangerous according to the REACH regulation), as well as being fully analysable for correct system management.

The table (fig. 1) shows the results of the analysis of tetravalent tin at different amp/hours of work in the three different tin plating solutions. The first solution did not contain any antioxidants, the second one used a traditional antioxidant and the last one contained the new Techni Eco Antioxidant. Results clearly show how the use of an antioxidant is essential to prevent the formation of tetravalent tin and the effectiveness of Techni Eco Antioxidant at slowing this phenomenon down.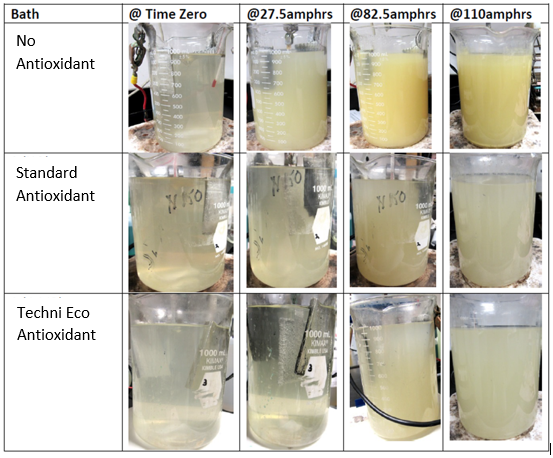 The results of the analysis are even more clear in fig. 2. In fact, the solution that did not contain any antioxidants already shows a noticeable turbidity at 82.5 amp/hours, while the other two solutions that use the antioxidant show an insignificant cloudiness. The use of antioxidants therefore allows to reduce the need for further actions to remove tetravalent tin and, consequently, to increase the performance of the treatment. We remind you that high concentrations of tetravalent tin, in addition to clouding the solution, have negative effects on the performance of the bath, as they require higher quantities of brightening and wetting additives. This can also lead to an increase in the cost of production.
The use of an antioxidant, along with good periodic maintenance and flocculation, may also help extend the bath's operating life. Technic has a line of targeted products for solution flocculation, as the use of generic raw materials is not advisable, because they tend to be less selective and they may risk flocculating bivalent tin as well, causing potential waste and an increase in production costs.
Techni Eco Antioxidant can be used in synergy with all of our bright and matt tinning processes, such as Techni NF JB 3000, Techni Matte Tin 89 Ti. The type of production equipment, whether in continuous reel-to-reel, rack or barrel, does not limit the use of the new antioxidant.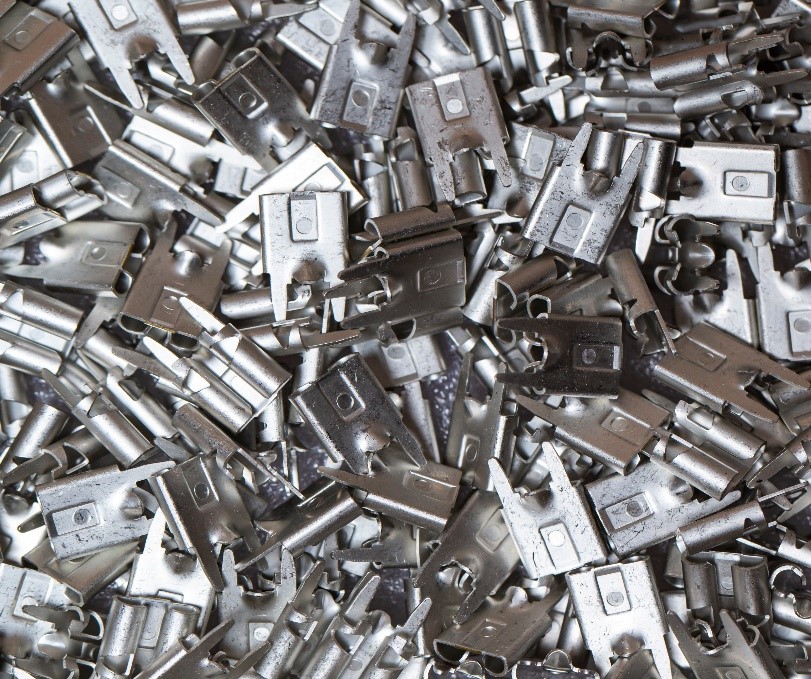 In order to continue to meet the demand for safer and more eco-friendly processes, Technic has also launched a new sulfuric-based bright tin plating process, called Techni Eco BT 2. The product incorporates the excellent technical characteristics of its predecessor, Techni BT 2, one of Technic's best-selling bright tin plating processes. Like its predecessor, Techni Eco BT 2 is also completely free from nonyl-phenols, and in addition it does not contain any carcinogenic substances or substances present in the SVHC list. 
Techni Eco BT 2 operates at very high current densities, which makes it perfect for both rack and barrel applications, providing excellent performance in terms of brightness and penetration, thanks to excellent distribution.
Finally, it is worth mentioning that any tin solution containing an antioxidant can be converted to Techni Eco Antioxidant, by simply adding in the new product. This eliminates the need to make up a new solution and the costs associated with it. Should there be interest in evaluating this type of conversion, Technic will be able to provide analytical support in order to confirm the compatibility of the existing bath with our products.
You can learn more about our wide range of tin plating processes for both decorative and industrial applications here. Should you need further information, our R&D team will be happy to guide you in selecting or developing the most suitable tin plating process for your specific process.
References
https://www.meccanicanews.com/2017/12/05/cose-la-stagnatura-e-quali-applicazioni-ha/
https://stainlessplating.co.uk
https://www.meccanicanews.com/2021/10/04/proteggi-le-tue-superfici-metalliche-da-corrosione-e-usura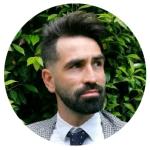 Author: Andrea Garzone, Technical Sales Representative at Technic Italgalvano
About Technic Italgalvano
Technic Italgalvano supplies surface finishing process chemistry for industrial, functional and decorative applications. Our markets include Electronics, Aerospace, Solar, Automotive, Fashion, Furnishings and Decorative applications.  Technic Italgalvano provides regional service and support to Europe and the Middle East. This ISO 9001:2015 facility offers sales and technical assistance for Technic products as well as equipment sales and service.