Revolutionary Technology for Cost-Efficient, High-Quality Electronic Component Finishing 

Technic's Spouted Bed® Electrode (SBE®) is a patented method of electroplating small components such as:
Electronic connectors
Pins
Chip capacitors
Chip resistors
Varistors
The SBE® plating system replaces a 4 x 6-inch barrel with a patented SBE® chamber. The load size is from 50 to 500 mls and uses significantly less conductive media. Manufacturers report improved uniformity throughout plated parts and significantly reduced instances of twinning, coupling, or clumping.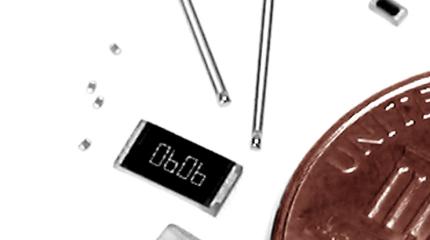 Technic SBE® Advantages
A variety of parts with dimensions no larger than 5/8 of an inch (15.875 mm) in any one direction can be plated in the SBE® system with a significantly reduced amount of conductive media, reducing costs and increasing production.
No Moving Parts
Improved Part-to-Part Thickness Distribution
Lower Operation and Materials Costs
Reduced Coupling
Increased Production Speeds
Reduced Maintenance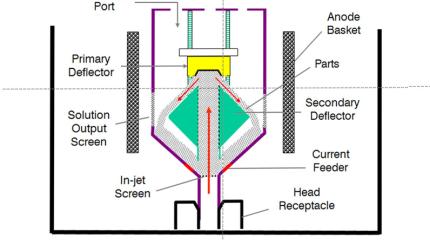 How it Works
The SBE® plating chamber's unique design provides for a rapid circulation of the parts over the cathode current feeder without the use of any mechanical movement. Plating solution flow rates carrying the parts through the chamber are exceptionally high (up to 60 liters per minute), thus ensuring that the parts are always plated in "fresh solution", irrespective of the configuration and size. Both of these attributes result in greatly improved part-to-part thickness distribution and a significant reduction in part-to-part coupling.
The narrower thickness distribution curve of SBE® allows the SMT producer to target the average plating thickness of a given load much closer to customer minimum thickness requirements than can be done in standard barrel plating equipment. The SBE® unique processing approach offers greatly increased production speeds while satisfying the most stringent quality control standards. Another advantage of the SBE® plating chamber is the elimination of tin and/or nickel deposits in the screened area of the chamber. Unlike a barrel, where plating takes place when the parts are on the barrel screens, the SBE® screens are located in a non-plating area. This greatly cuts down on the maintenance of the plating chamber.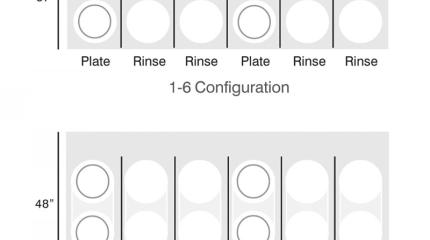 SBE® Models
SBE® 1-6
Our 1-6 Model consists of two plating tanks (one nickel, one tin) with a two station rinse after each process. The unit is constructed from polypropylene, mounted to a stainless steel base with leg levelers. The SBE comes complete with pumps, filters, rectifiers, piping and exhaust outlet and is equipped with two SBE chambers.
SBE® 2-6
Our 2-6 Module provides double the production capability by providing a second row of stations in each tank. The 2-6 Model comes equipped with four SBE chambers.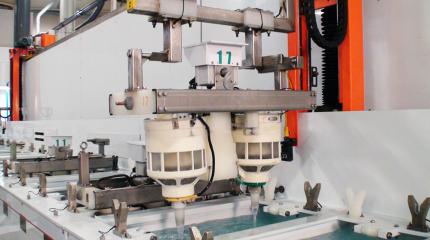 SBE® Automatic Systems
SBE® Systems is available in semiautomatic and fully automatic. The dual hoist system show here with consists of six nickel stations, dragout, cascade rinse, six tin stations, dragout and cascade rinse. In both automatic and semi-automatic SBE® systems, the hoist moves a flight bar holding two SBE® chambers.