Cataphoretic Lacquers - Functional and Decorative Finishing

Technic offers a range of cataphoretic lacquers to manufacturers in the decorative metal finishing industry.
Cataphoretic lacquers, also known as electro-coating or e-coating, are typically utilized to provide the plated parts with high corrosion resistance, increased hardness and high wear resistance. They also ease the process of varnishing hard-to-reach areas, as the parts are fully immersed in the e-coating solution.
Another advantage of using cataphoretic lacquers is easier thickness regulation compared to other paint coating types (e.g. powder). Cataphoretic lacquers are becoming increasingly popular for plating jewelry, door fittings, furniture and fashion accessories.



Why Technic?
Designed to enhance and protect, cataphoretic lacquers from Technic are specially formulated for ease of application, consistency of performance, and quality. As with all Technic products, we provide world-class support and outstanding customer service regardless of the scale of your operation and the quantity of your purchase.
At Technic, we take pride in the formulation of our specialty polymers and resins that promote ease of use, low curing temperatures, consistent quality, and exceptional performance. To learn more about these and other products, contact us, or contact your regional applications expert.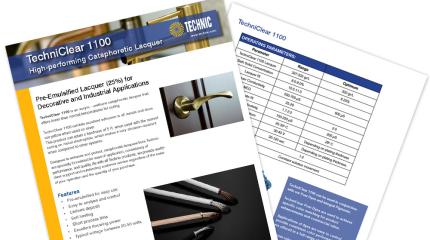 Pre-Emulsified Lacquers (25%)

TechniClear 1100 – Water-based acrylic urethane cataphoretic lacquer that offers much lower than normal temperatures for curing. It can be used with integral pigments or post dyes and exhibits excellent adhesion to all metals. Abrasion-resistant, TechniClear 1100 can attain a hardness of as much as 5 H, when used with the correct curing on nickel electroplate.
Pre-emulsified for easy use

Non-flammable

Excellent emulsion stability

Easy to analyze and control

Low solvent

Excellent adhesion

Excellent throw

Compatible with post dyes and integral pigments

Can be cured at low temperatures starting at 125˚C

Scratch Resistant

Non-Yellowing

Economical to run
We also offer TechniClear 1190, an enhanced version of the 1100, which has a built-in inhibitor for brass and copper substrates.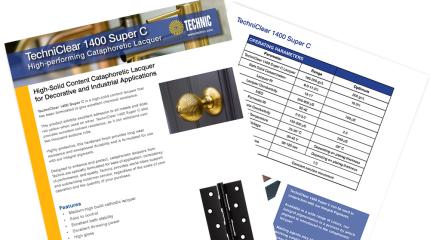 TechniClear 1400 Super C
High-Solid Content Lacquer for Decorative and Industrial Applications
High-solid content lacquer that has been formulated to give excellent chemical resistance. TechniClear 1400 Super C exhibits superior adhesion to all metals and does not yellow when used on silver.

TechniClear 1400 Super C also provides excellent solvent resistance, as it can withstand over two thousand acetone rubs. Highly protective, this hardened finish provides long wear-resistance and exceptional durability and is formulated for use with our integral pigments.
Excellent adhesion
Non-yellowing on silver
Can be used with integral pigments
Improved solvent resistance
Low running costs
Good perspiration resistance
Compatible with low turnover installations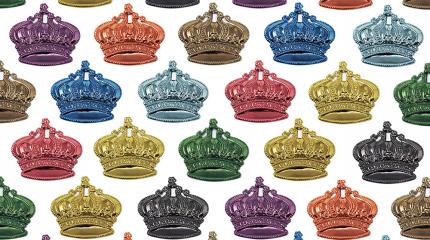 Post Dyes
Used to achieve specific color matching for product enhancements and commercial value, our Post Dye products are applied in conjunction with our TechniClear Cataphoretic Lacquers. Applications of dyes are easy to control, provide consistent color performance, and are offered in a full range of colors. Custom colors and color matching is available.
Easy Process Control

Consistent Color

No alteration of the lacquer surface

Low-Cost Operation

Wide Range of Standard Colors

Custom Colors Available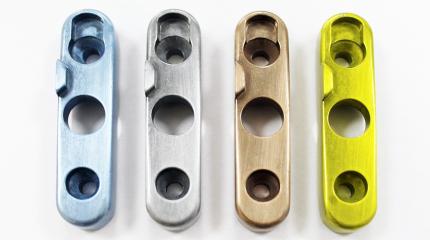 Integral Pigments
Available in a wide range of colors, our integral pigmentation is a process by which pigment is introduced to the cataphoretic lacquer. Coloration and protection is easily achieved in a one-step process that provides durability and value.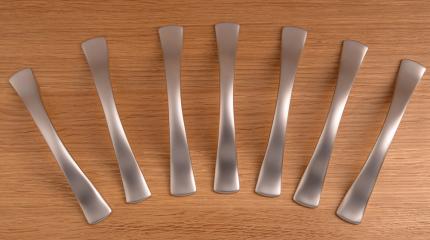 Matting Agents
Matting agents are used to modify surface properties. They are primarily used to reduce the surface gloss, but can also provide additional mechanical properties. Designed to achieve a specific luster of finish, our matting agents can be manufactured in degrees to your specifications. From a slight semi-gloss to a frosty, full matte finish.