Technic's MP300 offers many advantages over conventional hoist type plating systems
The MP300's patented single piece flow automation reduces labor requirements, consumables as well as utilities costs, while providing high quality, repeatable performance. The MP300 delivers on lean manufacturing initiatives by dramatically reducing turn around time by as much as 80%.
Applications:
Bright and Satin Nickel
Gold
Black Nickel
Alkaline Zinc
Cyanide Copper
Bright Acid Copper
Tin and Tin Lead Alloys
Hexavalent Chrome
Trivalent Chrome
Chrome alternatives
Co-development and testing of other chemistries
Features and Benefits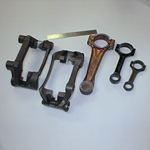 Custom clip design accommodates automation of a variety of parts
Significant reduction in water and waste treat costs
Substantially reduced part-to-part thickness and surface finish variations
Rapid payback in utilities and chemical savings
Small footprint with minimal site preparation required
Fully enclosed clean processing
MP300 vs. Conventional Rack Plating
Typical ventilation requirement
MP300: 1000 CFM
Conventional: 10,000 CFM
Automatic load/unload
MP300: Available
Conventional: Not Available
Maintenance Accessibility
MP300: Fast/Easy Access
Conventional: Difficult
Operators/Rackers
MP300: 1
Conventional: 6-12
Heating/Cooling Requirements
MP300: 10% of conventional
Conventional: High
Cycle Time (Typical)
MP300: Less than 20 minutes
Conventional: 2 Hours+
Floor Space (Typical)
MP300: 30-50%
Conventional: Large Footprint
Utility Cost
MP300: 10-20% of conventional
Conventional: High
Plating Thickness Variation
MP300: Less than 10%
Conventional: More than 95%
Installation to startup time (Average)
MP300: 2 weeks
Conventional: 3 months
Facility Preparation
MP300: Minimal
Conventional: Substantial
Key Design Features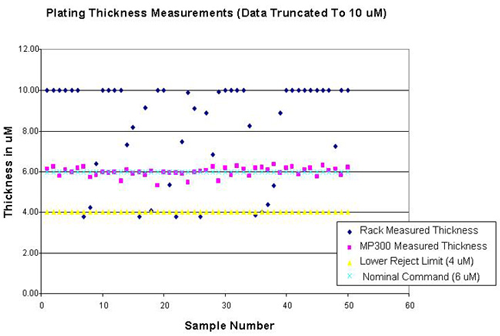 Moving Cathode
Enables continuous motion of parts through the plating process without the need for staging areas with large in-process inventories.
Eliminates part-to-part current density and anode targeting variations, greatly improving part-to-part thickness uniformity
Sealed Construction
Enables equipment to be located anywhere in the factory, improving overall flow of materials to and from the wet processing center.
High Speed Plating
Smaller tanks provide higher plating speed with lower utilities costs, and faster turn-around times
Enables smaller overall machine footprint
Return On Investment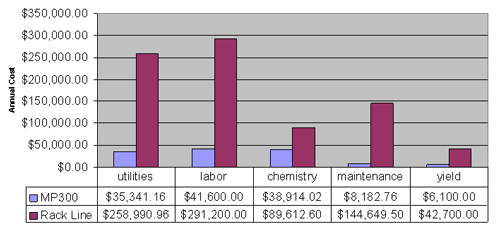 A Technic customer studied alternatives for the future expansion of its plating operation and ultimately decided on the MP300.
Alternatives included:
Expand existing rack line
Purchase a new rack line
Purchase an alternative system that would address chronic issues such as improving process yields, reducing cycle time, and reducing manufacturing cost.
After 18 months of operation the customer performed an audit of the comparative operating costs of the pre-existing rack line versus the MP300. Their summary findings indicate a significant cost savings and rapid payback realized through implementation of the MP300.