Nickel and Tin for Advanced Packaging Applications
Nickel and tin are critical deposits for advanced packaging platforms. Technic's range of products are formulated to maximize the performance of the package and are designed for ease of use in high volume production.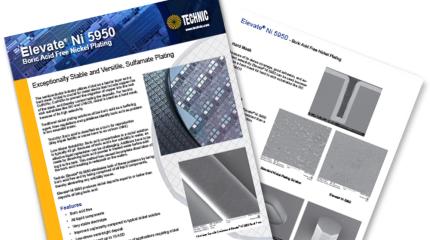 Elevate® Ni 5950
Elevate® Ni 5950 eliminates concerns related to toxicity with a boric acid free nickel deposit. Technic's Elevate®  Ni 5950 is capable of running at a wide current density range of 1–10 ASD. Deposit properties such as stress, ductility, tensile strength, elongation, grain structure and corrosion resistance are all similar to or better than a standard nickel solution.  In addition, Elevate®  Ni 5950 uses all liquid components making the process very fab friendly. 

Boric acid-free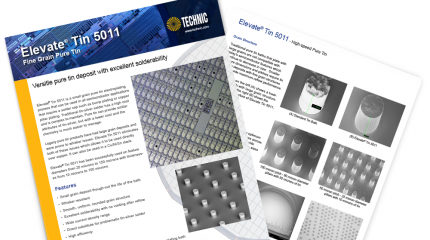 Elevate® Tin 5011
Elevate® Tin 5011 is a small grain pure tin electroplating process that can be used in all semiconductor applications that require a solder cap such as bump plating or copper pillar plating.