Electrolytic Copper for Industrial Plating

Technic supplies a broad range of advanced electrolytic copper processes, such as semi-bright, acid, alkaline, and smooth satin solutions.
Copper has many useful properties, as it is a ductile, non-magnetic, conductive metal. Its high throwing power provides excellent adhesion to the base metal as well as a flawless, uniform coating. Copper's exceptional thermal properties and corrosion resistance makes it a great choice for manufacturing products used in electric motors, electronic tools, building materials, piping, and marine applications.
Copper plating processes may vary in composition to satisfy customers' requirements for specific industrial applications.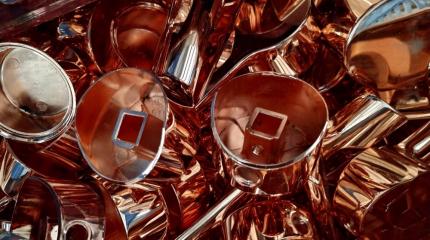 Techni Copper C
Semi bright strike process. Recommended for difficult to plate metals.
Glance Cu 9002
Lead-free electrolytic alkaline copper. Suitable for both rack and barrel applications.
CUCN-Bright Copper Cyanide Process
Cyanide copper plate provides a protective coat of copper over the base prior to subsequent plating.
Techni Copper P Solution
A semi to bright pyrophosphate alkaline copper solution used as an alternative to copper cyanide.
Techni Cu 2300
Acid copper electroplating process designed for printed circuit board and reel-to-reel applications.
Techni Cu Satin
Electroplating process engineered to produce a fine grained, smooth satin deposit.