Designed for Laboratory Wafer Testing & Sampling

Technic's portable tabletop wafer plating test cell features all the tools needed to simulate full scale production within a laboratory or R&D environment.
Specifications:
16" long x 12" wide x 14" deep
constructed from ½" thick natural polypropylene with flange
anode rod as required for single side plating
cathode rod of ¼" x 1" stainless steel with holders
The module features cathode rod knife-edge agitation, complete with variable speed motor, 0-16 RPM, motor mount, cam and connecting arm. 
The tank is heated by a 1,000 watt L-type d-rated heater (10 watts/sq. in.) with integral thermal overload protection, digital readout temperature control (+ .25%) and a low solution level shut-off.
The module also features a filter system for continuous filtration and separate agitation pump assembly, complete with natural polypropylene dispersion line with valve. The plating tank, filter pump, agitation pump, etc. is mounted on a common polypropylene base with safety tray approximately 20" x 36".
The heater, pumps and agitation system are pre-wired to a chemical resistant NEMA 4X fiberglass enclosure. The temperature control with the fuses and circuit breakers and necessary switches for the pumps and agitation system are mounted in a separate fiberglass enclosure. The rectifier (provided separately) plugs into the enclosure. Input voltage 120 V/1ph/60Hz.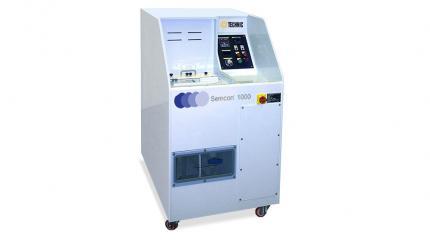 Customers also viewed
Semcon 1000 Wafer Plating Tool
Designed and developed specifically for research and low volume production, the Semcon 1000 has become an essential tool for wafer electrodeposition evaluation and application performance testing.