Semcon 1000 Electroplating Tool for R&D and Low Volume Semiconductor Applications

Technic's Semcon 1000 is a manual electroplating tool designed specifically for research and development and low volume production semiconductor applications. Technic has implemented numerous Semcon tools around the world for many different metal plating solutions and several different applications.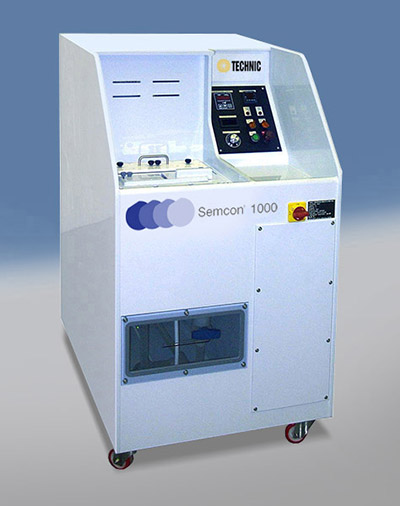 The Semcon 1000 is easy to operate and has been used extensively for copper, nickel, and gold plating. Its universal design allows for use with any commercially available electroplating solution and it can be specially designed to meet class 1000 cleanroom specifications.
Applications
Advanced Packaging

MEMS

LED

MicroLED

Photonics
Features
Capable of processing several different (plating) applications
Processes a variety of substrates including Si, GaAs, InP, and more
Able to plate wafers up to 200mm (square or rectangular panels may be used with customized holders)
Self-contained with all components required for electroplating
Includes single plating cell and drag-out rinse cell
DC power supply
Pump and Filter
Heating and temperature controls
Plating rack
Benefits
Provides a low-cost R&D tool for process parameter development that can transfer to mass production operations
Easy to operate tool to process incremental expansion of plating capabilities from a single metal to multiple metal stacks.
Ongoing technical support with industry-leading chemistry - Technic supplies a wide range of advanced electroplating chemistries - providing for the quick development of optimum process parameters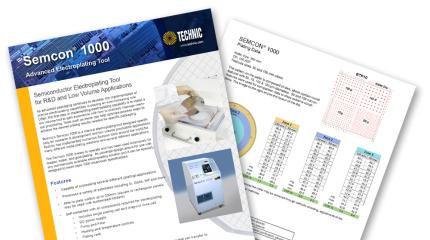 SEMCON 1000 Wet Bench
A low-cost wet bench design for R&D and low volume applications.
The Semcon 1000 provides the same cell and wafer holder design as used on our highly successful SEMCON 2000 series. 
 Features a single plating cell and dragout rinse cell.
Plating and electroforming of wafers or discrete parts, silvers, etc., up to 200mm.
Self-contained, constructed of white polypropylene with a clear PVC process cover designed to meet class 1000 cleanroom specifications.
Plating cell components include heating temperature control, low-level safety device, pump and filter, DC power supply, and wafer holder.