EPIG



Electroless Palladium, immersion gold process for when Nickel cannot be used, but ENEPIG alike performance is required, like wire bonding.
Pallamerse is an immersion palladium process that applies a dense, pore-free coating of palladium on base metals like copper, silver, and nickel. When used with a thin immersion gold, typical coatings of 2-5 micro inches of palladium are possible to maintain the solderability of the surface for up to 12 months. Pallamerse in conjunction with electroless palladium is used for applications like wire bonding which requires higher Pd thickness. This is an option for 5G applications when Nickel cannot be used. The Pallamerse plating solution is slightly acidic and operates at a low temperature, which provides excellent compatibility with photoimageable and UV-cured solder resists and ceramic material. The process provides a long bath life and excellent tank stability.
TechniPad 7611 is a stable, autocatalytic, electroless palladium plating solution. It is designed to deposit a pure palladium deposit on electroless nickel to improve solderability and provide a surface for both aluminum and gold wire bonding. TechniPad 7611 can be deposited directly on copper when the complete Technipad EPIG process is used. The TechniPad 7611 plating solution operates at a slightly acid pH and low temperature, which provides excellent compatibility with photoimagable and UV-cured solder resist. The process provides excellent tank stability and meets IPC 4556.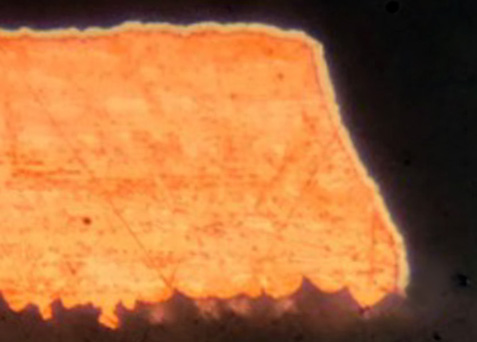 TechniPad Au 6100 is a cyanide-based immersion gold plating process designed to provide a controlled deposition of thin pure gold deposits onto electroless nickel and electroless palladium. The gold deposition is controlled using proprietary additives which eliminates corrosion products on the nickel-gold interface that can form with PGC-based immersion gold. Elimination of these corrosion products provides a dramatic improvement in solderability over other processes. Deposits are uniform, fine-grained, and exhibit extremely low porosity. The solution has excellent pH buffering capacity and high tolerance to copper, nickel, and lead contamination. When used with the TechniPad ENIG or Technipad ENEPIG process, it is possible to operate at lower gold concentrations in the operating solution due to the flat electroless nickel deposit. An overall savings in gold consumption is possible if the entire TechniPad process is used.