Technic High Speed Plating Test Cell
The Flow Cell is designed for laboratory use or as a portable test unit to simulate high speed plating applications such as reel-to-reel or lead frame plating. The cell is constructed of white polypropylene with support flange and convenient storage compartment. The unit can be supplied with a case to allow for transportation to different labs or facilities.
Features
Plating area 10" long x 4.5" wide. Adjustable controlled depth plating of 3.5" to 4.5"

Two 3/8" dia. stainless steel anode rods, rod holders, titanium anode baskets, and anode bags

Stainless steel cathode rod connected to knife edge cathode agitation system

Double pass PVC solution sparger connected to in-tank filter system

Teflon heater with digital readout temperature
Specifications
Footprint: 27" long x 19" high x 19" wide

Capacity: Approx. 1.5 gallons of solution

Heat-up time from 70°F ambient to: 110°F - 1 hour & 140°F - 2 hours

Utility inputs available are: 120; 208; 230; 240 volt-1ph-50/60hz.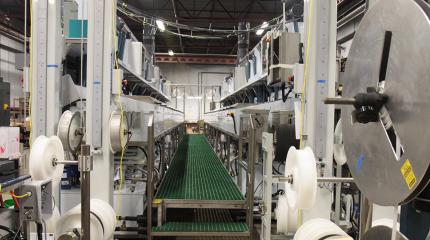 Reel to Reel Equipment
Custom built modular construction with interchangeable plating tools for a variety of applications.