High Capacity, Reliability, Precision of Production

Technic equipment and chemistry is widely used across the globe for a wide range of continuous processing applications. The high capacity of reel-to-reel systems, their reliability and precision of production make them ideally suited for the manufacture of components made and used by the electronics, medical, automotive, and other consumer product oriented industries.  Our reel-to-reel plating systems offer precise engineering, quality construction and some of the most advanced cell designs and configurations available. 
Technic's knowledgeable and experienced Application Engineers provide customers a full range of technologies, resources and options to meet the most demanding criteria. Advanced tools for selective plating applications, each with its own range of precision and accuracy, are custom configured to each application. Selective Spot systems can be made accurate to +/- 0.1 mm and include the capability of east/west plating on pins. Stripe systems may operate with a similar accuracy and allow stripe on strip and edge of strip placement.
Applications
Plating
Controlled Depth 
Selective Stripe 
Selective Spot
Electropolishing
Materials (Flat, Formed/Stamped or Wire)
Copper & Copper alloy
Steel strip
Aluminum & Aluminum alloy strip
Foils
Thin Film/Mylar/Plastics
Line Configurations (Vertical and Horizontal)
Single & Multi-strand
Straight
U-shaped
Multi-pass Festoon Applications
Plating & Process Chemistry
Gold
Silver
Copper
Nickel
Palladium & Palladium-nickel
Tin & Tin-lead
Reflow of Tin and Tin-lead alloys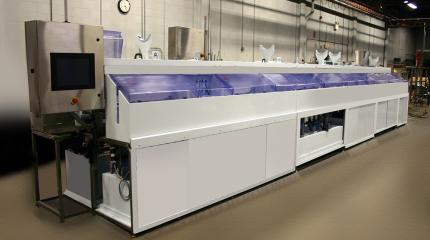 System Design
Technic's high-speed continuous processing systems incorporate many optional as well as standard reel-to-reel equipment features, including:
Modular Construction
Interchangeable Cells
Roll-out/plug-in Plating Stations
Ultrasonic Cleaning and Rinsing
Choice of Heat
Filtration
Bath Agitation
Universal DC contacts
Computerized Visual Inspection
Continuous Thickness Measurement
Electrowinning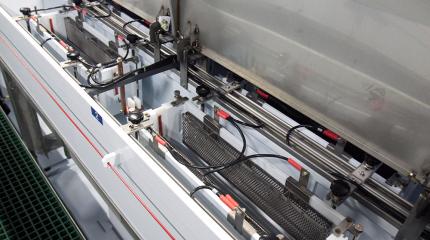 Advanced Plating Cells
Advanced engineered plating cells allow high speed, low porosity deposits with optimum distribution over the entire plated area. These interchangeable cells maximize controlled depth plating accuracy by incorporating knife edge cell walls, submerged anodes and unique solution spargers into each plating cell. Modular construction allows whole process segments to be removed from the machine for repair, rearrangement and/or maintenance using an innovative roller system. Plug-in electricals and quick disconnect fittings make relocation and service simple and quick.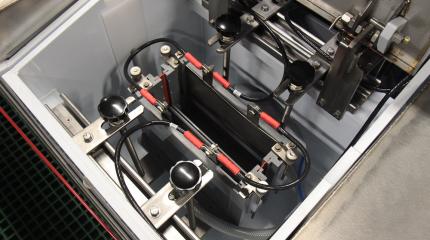 Dragout Control
The various shapes and large quantities of material being processed make it extremely important to control solution dragout. Where required, unique wiper systems, brushes and air blow-offs are used to minimize solution losses. Chemically resistant wiper system wicks solution off the product, allowing it to be drained back into the process. The resiliency of the wiper material allows it to automatically adjust to changes in thickness of the material being plated without springs or manual adjustments.
Air knives and brushes are also utilized to enhance the removal of solution. Carefully controlled pressures deliver just the right amount of air to remove solution without drying, staining or passivating the part surfaces. All methods prevent "back spray" and reduce cross-contamination. This careful control of dragout results in more precise process control and reduced rinse water and chemical consumption.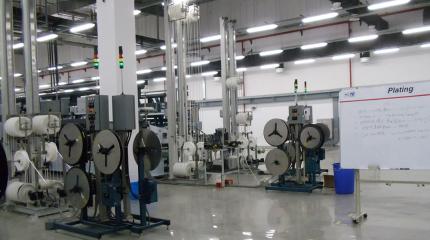 Continuous payout and takeup equipment
Automatic pay-out and take-up systems utilize ultrasonic and non-contact sensors to detect the presence of product and to maintain the proper degree of tension. This control protects even the most delicate of materials. Any size reel of flat stock or stamped product can be accommodated.
Tachometer-generator feedback speed control is used to maintain synchronized transport speed and eliminate product distortion under all load conditions.
Downloadable Files