Patented New Semiconductor Wafer Plating Tool for R&D and Low Volume Applications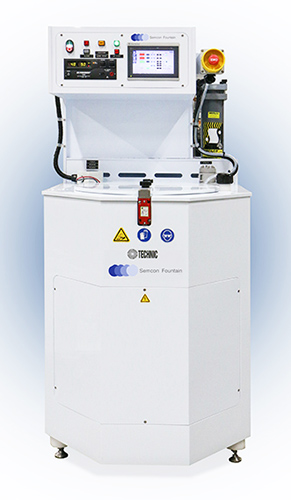 The Semcon Fountain is the latest development in the highly successful Semcon series of wafer plating tools by Technic. Expanding on the popularity of the Semcon 1000 single wafer processing for R&D and small-scale production, the Semcon Fountain offers more options and features with a patented chamber design and solution sparger that more closely resembles a full-scale production environment. The Semcon Fountain's unique design also orients the wafer in a more favorable horizontal position, mimicking most of the semiconductor mass production electroplating tools. The Semcon Fountain is capable of processing wafers up to 300 mm with specially designed wafer mounts.
Through the use of interchangeable wafer plating cups, fabricated to specific wafer sizes, optimum plating results can be achieved by configuring the process for each application by adjusting the sparger, solution flow, shielding, and more. Each diameter-specific, wafer cup allows for maximum flexibility at a low cost by being able to run different wafer sizes using one plating cell. The Semcon Fountain is ideal when setting up an electroplating process for the first time or when introducing a new metal plating bath to an already existing electroplating process.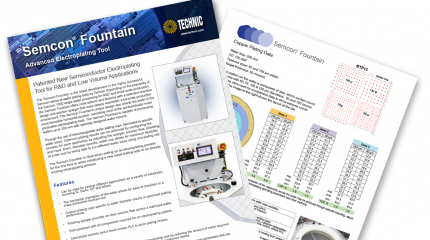 Advanced Technology for wafer deposition
Features
Can be used for several different applications on a variety of substrates including Si, GaAs, InP, and others.
The horizontal orientation of the wafer allows for ease of transition to a mass production fountain tool.
Custom plating cups specific to wafer diameter results in optimized plating performance.
Rotating sparger provides an ideal solution flow across a stabilized wafer.
Self-contained with all components required for an electroplating system.
Centralized controls and a touch screen PLC to store plating recipes.
Benefits
Superior WID and WIW improves development and processing cost by reducing the amount of metal required per wafer. This is extremely beneficial when plating gold or other precious metals.
Reduced cost of R&D by providing a versatile tool that can be used to develop and test process parameters that can be transferred to a mass production tool.
A self-contained, modular tool allowing for low-cost incremental expansion of plating capabilities from a single metal application to multiple metal stacks.
Technic supplies a wide range of electroplating chemistries for the quick development of optimum process parameters.