Vibratory Units: Rack Plating Quality, Barrel Production, Significant Savings
A vibration generator transmits oscillation pulses through a vertical shaft to a uniquely designed basket. This vibration causes the parts to move slowly and uniformly around the basket's axis while gently being mixed and agitated. The parts move over rows of cathode contacts located in the bottom of the basket while maintaining electrical contact at all times. Plastic screens in the bottom of the basket allow for the proper exchange of solution. As a result, constant current density and uniform plating are assured.
Reduces precious metal consumption
Vibratory plating reduces metal consumption by improving end-to-end and part-to-part uniformity. Intricate parts can be uniformly plated in the "blind" areas
Eliminates part damage
A wide variety of part sizes and types can be plated in these units. The gentle vibratory action reduces tangling and protects small delicate parts from being bent, scratched, or otherwise damaged
Minimizes drag-out
The vibratory action helps to dislodge trapped solution from the plated parts decreasing the amount of drag-out and increasing the effectiveness of the rinse cycles.
Adaptable to existing lines
With optional transport frames available; the lighter weight, improved vibratory isolation and quieter operation over previous vibratory plating equipment enables these units to be easily incorporated into existing manual or automatic plating lines.
Easy access baskets & quick interchange
The unique open basket design offers quick, easy access for spot inspection. Baskets are easily interchanged on the motor to allow a variety of sizes and design to be used. Baskets available in PP or PVDF for high temperature and electroless processes. Mesh covers are available if surface tension is a problem.
 
Models & Standard Features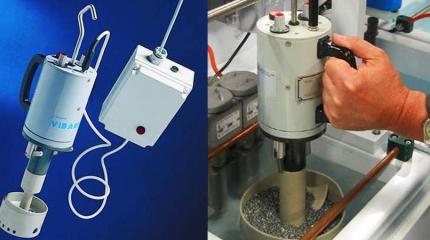 Vibarrel 100
Basket sizes: 90 mm and 160 mm in diameter
Basket material in PP or PVDF
Manually variable frequency and amplitude controls
Manual transport from bath to bath – using standard feature handle
Maximal cathodic current = 25 Amp
Weight = 12lbs with basket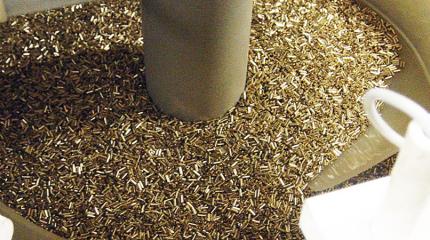 Vibarrel 201
Basket sizes: 90mm to 200 mm in diameter
Basket material in PP or PVDF
Transport from bath to bath – the vibration unit has to be fixed with a frame to the customer transport hoist. Can be used in an automatic line or transported with a manual hoist.
Maximal cathodic current = 100 Amp
Weight = 39.68 lbs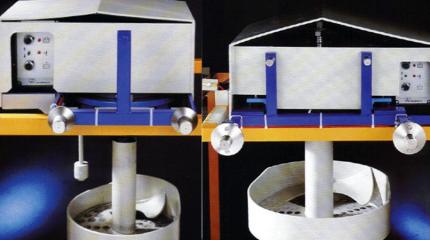 Vibarrel 301
Basket sizes: 160 mm to 360 mm in diameter.
Basket material in PP or PVDF
Transport from bath to bath – the vibration unit has to be fixed with a frame to the customer transport hoist. Can be used in an automatic line or transported with a manual hoist.
Maximal cathodic current = 350 Amp
Weight = 110.23 lb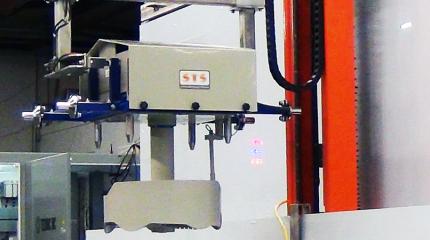 Vibarrel 450
Basket sizes: 250 mm to 450 mm in diameter.
Basket material in PP or PVDF
Transport from bath to bath – The vibration unit has to be fixed with a frame to the customer transport hoist. Can be used in an automatic line.
Maximal cathodic current = 800 Ampere
Weight = 264.5 lb