Automatic & Manual Electropolishing Systems

Electropolishing systems come in many different configurations, each with its own range of production capabilities to address the precision required as well as the specific shape and scale of the parts being processed. Technic offers an extensive range of technologies for electropolishing equipment that assure the correct device is specified for your needs.
Technic's comprehensive customer collaboration during the design phase ensures system flexibility, ease of operation and maintenance along with an integrated work-flow into your current operation. Additional considerations are given to future upgrades, system expansion or implementation of cost saving automation. Your Technic applications engineer can help you select the best electropolishing system for your application as well as present a number of options for getting the most out of your equipment investment.
What is Electropolishing?
Electropolishing is an electrochemical process similar to electroplating, but the reverse. The electropolishing process operates on a microscopic level to smooth the surface of the metal part.
The Electropolishing Process
Electropolishing is an electrochemical process which is used for smoothing metal surfaces by removing microscopic amounts of material from the surface of the product. The metal work-piece is immersed in a temperature controlled bath of electrolyte while connected to the anodic (positive) position in a DC circuit. A current passes from the anode where metal is dissolved to the cathode where hydrogen is evolved. Electrolytes used for most commercial electropolishing are usually concentrated acid mixtures such as sulfuric acid and phosphoric acid. Alkaline processes may be used for some metals. The protruding elements of a part's surface profile dissolve faster than the material in the recesses.
Electropolishing systems for research and industry are available in manual and automatic configurations. Automatic systems may be continuous or batch. Each electropolishing unit is custom designed and supplied with the tools, special fixtures and accessories necessary for successful operation. Regardless of the sophistication of the application, a design can be developed to deliver the finish, precision and accuracy required.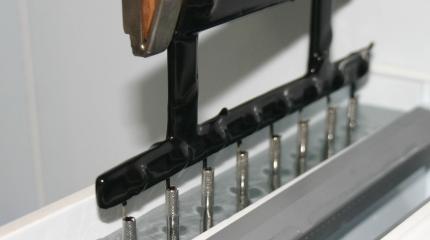 Electropolishing Industry Specifications
ASME BPE Standards for Electropolishing Bioprocessing Equipment
SEMI F19, Electropolishing Specifications for Semiconductor Applications
ASTM B 912-00, Passivation of Stainless Steels Using Electropolishing
ASTM E1558, Standard Guide for Electrolytic Polishing of Metallographic Specimens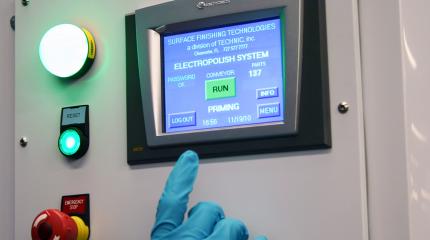 Typical System Features
Modular construction
Corrosion resistant fabrication
Water conserving rinse design
Data collection
Totally enclosed processing area
Minimal maintenance
Steam or electric heat
Manual or automated operation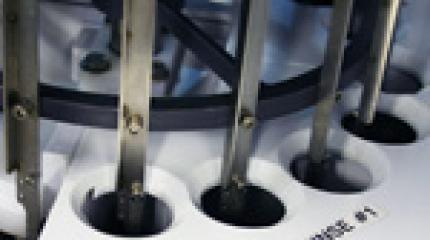 System Benefits
Easy to operate
Easy to maintain
Reproducible results
Waste minimization
Controlled environment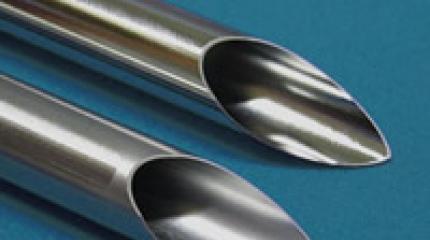 Industries Served
Medical
Industrial
Aerospace
Automotive
Architectural
Decorative
Consumer
Military
Electropolishing Information and Associations