Tables for all models of Mini Plants, Mini Electroless Lines and Mini-Mods are available. They have a working height of 36" have a white polypropylene work surface, PVC side panels and sliding front panels for access to interior storage.
Consoles and Work Stations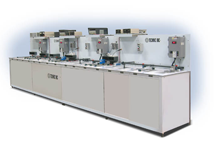 Designed and built specifically to your needs, Technic can construct consoles and work stations with some or all of the following features:
Integrated exhaust and hoods
Fully plumbed connections
Electrical service connections
Modular or single unit construction
Work lighting
Custom storage compartments
Exhaust Hoods
Exhaust hoods are available for the Mini Plants and related equipment. They are designed to sit on Work Tables.
Custom Hoods and Work Benches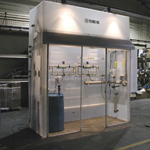 In addition to equipment matched to the Mini Plant and other Mini lines, custom workbenches, exhaust hoods and combination modules suitable for laboratory and research work can be designed and manufactured.