Technic's equipment divisions operate out of three facilities world-wide offering a full range of equipment capabilities for electroplating and related applications. Our dedicated team of application specialists, engineers and construction personnel has extensive experience in automatic, semi-automatic and manual lines. Technic's proprietary equipment and numerous patented technologies provide our customers with the most advance technology on the market.
Technic hoist control systems offer a complete array of controls to meet each customer's production and process control needs. Control packages are available from simple manual joystick or handheld RF operation to complete automation featuring operator touch screen workstations.
Standard Systems:
Programmable Logic Controller (PLC) based
PC based
Fixed Timeway Operation
Random scheduling software (MPS)
Series I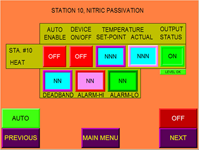 Our basic control system provides all the necessary control of hoists and tank devices. The Series I utilizes a fixed timeway recipe through a series of travel, lift and drop commands. The timeway is a fixed sequence of moves that carries the load through the process stations.
The system is programmable logic controller based and is capable of controlling all machine functions centrally through a 7" color touch screen operator interface terminal.
Series II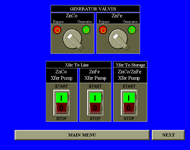 Fixed timeway operation similar to the Series I but with the added power of a PC coupled with 19" color touch screen interface. The Series II allows multiple programs to be stored in memory and is limited only by hard disk drive capacity.
Data logging allows for process control information such as process tank times, operating conditions, temperature, etc. to be stored in a relational database format to be used by the customer to generate job reports. The customer can use off the shelf software such as Microsoft Access™, FoxPro or DBASE to review and manipulate the data.
Series III (MPS)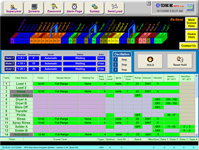 The Multiple Process Scheduling (MPS) system is designed to meet customer real time production requirements. The software allows the customer to randomly mix process times and/or sequences of their product within the line.
The control system will run an unlimited product mix and is capable of running multiple processes or recipes simultaneously. This system is ideal for job shop and just in time applications where products requiring different recipes need to be processed randomly throughout the day.
Automation for this series is controlled through a PC and 19" color touch screen monitor. The operating system runs under Windows XP™ and graphically represents all machine functions.
This system also features data logging, job reports and part number database capabilities.
Optional Features
Multiple hoist control
Statistical Process Control (SPC) - Analyze data to improve product and process quality
Networking - Retrieve information from the process to an offline database for independent analysis and report functions
Online service via modem