Apex Series Modular Anodizing Systems
The APEX Series are modular, turnkey systems designed for manufacturing companies looking to increase control of their supply chain by bringing surface finishing in-house. This platform is also a perfect upgrade for finishers that have outdated hand operating lines. The Technic Apex System and application expertise provides ease of operation for a trouble-free start-up. Best practices for process control simplify integration into an existing manufacturing operation. Custom configuration of modules ensures for application-specific optimization of each system to company requirements. Apex 100 is a manual hand tank line with tank stands and no hoist designed for operational efficiency and ease of use. Apex 200 is a small hoist line with a superstructure and a full process tank layout. Apex 300 is the big brother with larger tanks and significant production capability. All three models have available waste treatment systems matched to the line configuration.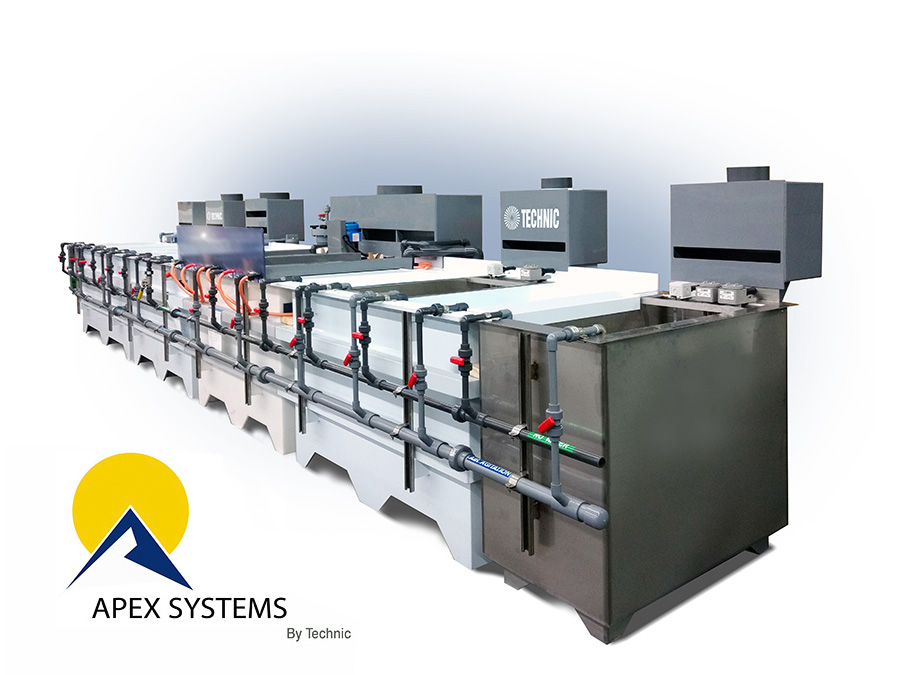 Apex 100 Series: Apex 100 is a hand-carry tank line with tank stands and is designed for operational efficiency and ease of use. The Apex 100 is easily upgraded to hoist operation for the elimination of lifting. Automation is optional. The standard line layout for module one is cleaning, etching, and deoxidizer with three rinses. The second module contains anodizing, dye, and seal with three rinses. The part size window for the Apex 100 anodizing equipment is 14" by 16". The Apex 100 build specifications may be found in the Apex 100 Technical Data Sheet.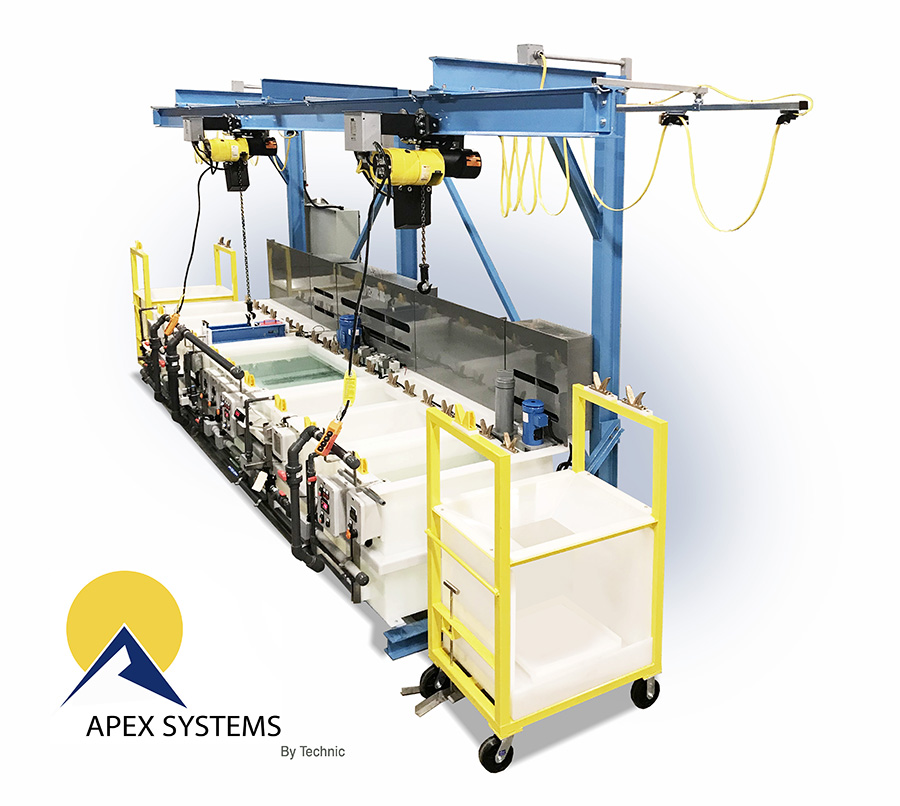 Apex 200 Series: Apex 200 is a smaller footprint, production-ready, motorized trolley hoist-operated line. There are 14 tanks in the standard line configuration. Automation is not included but available as an upgrade. The 28-foot-long structure is a compact footprint for minimal floor space. The standard process sequence provides Type II and Type III anodizing in clear and black finishes. Additional capacity can be added with a second anodizing station. This allows segregating Type II and Type III hard coat into separate tanks. The versatile Apex 200 series may be built as a manual, hand-carry operation, a manual trolley hoist for no lifting, or fully automated processing.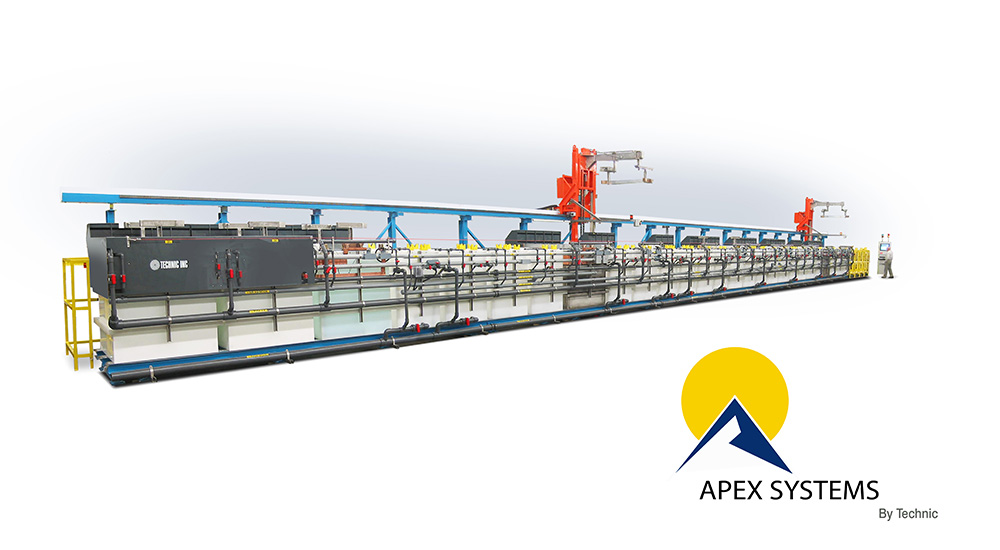 Apex 300 Series: Apex 300 is a production-ready, medium-sized motorized trolley manual hoist anodizing line. There are 17 tanks to include process chemistry for additional capabilities. The process sequence provides Type II and Type III hard coat in clear and black. A second anodizing tank option allows a significant production increase for larger job shops with mixed customer requirements of clear and black in both conventional Type II and hard anodizing Type III. Full ventilation with push-pull air system. A full automation package is available.
 
Downloadable Files