Electrochemical fabrication is an essential part in today's medical device manufacturing. Chemically changing surface properties with the objective of creating a more amicable biomaterial-host or structurally enhancing the finishing on essential tooling is widely used through the medical device manufacturing industry. Technic offers both the process expertise and advance equipment choices to obtain optimum results in this highly specialized market. Our application specialists work with each customer in customizing their specific equipment needs, from simple manual operations to fully automatic systems with advanced operator controls and process monitoring.
Higher efficiency, improved quality and lower cost through innovation and design.
Technic provides advanced solutions to medical device manufacturing:
Sharpening
Aqueous Cleaning
Electropolishing
Etching
Electroplating
Passivation
Electrochemical Deburring
Color and Type II Titanium Anodizing
Process Controls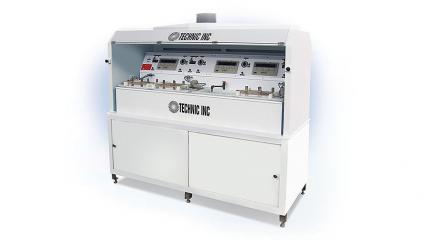 Medi500 Series - Manual Laboratory/Prototyping System
Smaller scale production for prototyping in a laboratory environment requiring a specialized tool.
Features and Benefits
In-tank filter system
Solid state amp/hour minute meter
Air/solution spargers
Mechanical agitation system
Anodes
Exhaust Hood
System Support Stands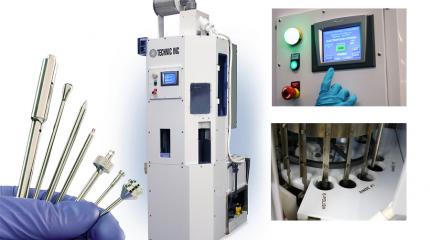 MP500 - Automatic Radial Style Electropolishing
Technic's MP500 offers complete automation of the electropolishing process. A high-throughput wet processing system, the MP500 can be customized for a variety of parts requiring electropolishing, sharpening, and deburring.
Applications:
Surgical Tubing
Fasteners
Stampings
Drawings
Investment Castings
High Vacuum Components
Pure Gas Delivery Components
Medical Cutting Instruments
Food Processing Blades
Hard Disk Drives
Specialty Sanitary Fittings
Gears, Splines and Shafts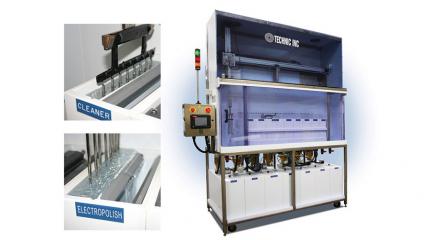 Medi1500 - Enclosed Lateral Transport System
Offering a wide range of applications common to the medical device fabrication industry, our Medi1500 series of lateral transport systems provide highly flexible wet process automation. The platform offers processing precision and accuracy with simplified functions access and control oversight. Systems are custom designed to meet the exact degree of sophistication required for each application and offer a clean, safe processing environment.      
Systems Features:
Modular construction
Corrosion resistant fabrication
Water conserving rinse design
Data collection
Fully enclosed
Steam or electric heat
Manual or automatic operation System Benefits
Easy to operate and maintain
Reproducible results
Waste minimization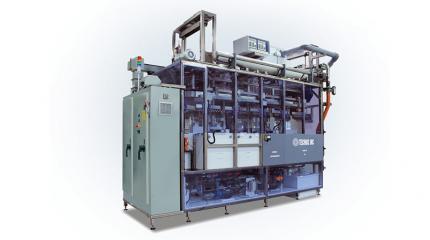 Medi2000 - Enclosed, Automatic Radial Transport System
Designed to satisfy single or sequential surface finishing requirements, our Medi2000 radial transport systems provide highly efficient, automated production in a remarkably small footprint. Processing configuration options include; racks, baskets, or single parts. Systems are available with simplified manual or fully automatic loading/unloading. Systems are self-contained, easy to maintain and may be positioned almost anywhere on the production floor. Medi2000 automation achieves the highest standards in part-to-part uniformity while precisely controlling process conditions and achieving essential production information.      
Processes include:
Cleaning
Bright Dipping
Chemical and Eectrochemical Deburring
Passivation
Electroplating
Electropolishing
Anodizing
Downloadable Files