Semiconductor Plating Tool

Technic's SEMCON 1000 is the newest addition to our line of dependable, wet bench wafer metallization tools for the semiconductor industry. The SEMCON 1000 wet bench performs critical electroplating operations with a high degree of uniformity and repeatability on industry standard and non-standard substrates, including Si, GaAs, InP, and other glass-type substrates. Our equipment engineering and chemical process teams work together to provide the optimal SEMCON tool configuration for each specific application.
MEMS/MOEMS
Bump Application
LED Application
Chip Level Wafer
Photonics Application
Pilot Solar Application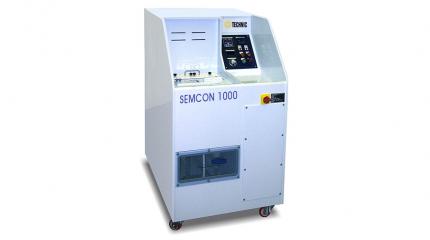 SEMCON 1000 Wet Bench
Low cost wet bench design for R&D and low volume applications.
Same basic cell and wafer holder design as used on our highly successful SEMCON 1500 and 2000 series. 
Tool features a single plating cell and dragout rinse cell.
Plating and electroforming of wafers or discrete parts, silvers, etc., up to 200mm.
Tool is self-contained, constructed of white polypropylene with a clear PVC process cover designed to meet class 1000 clean room specification.
Plating cell components include heating temperature control, low level safety device, pump and filter, DC power supply, and wafer holder. 
 
Downloadable Files