Essential Tool Offers Reliable Wafer Plating Results for R&D and Low Volume Production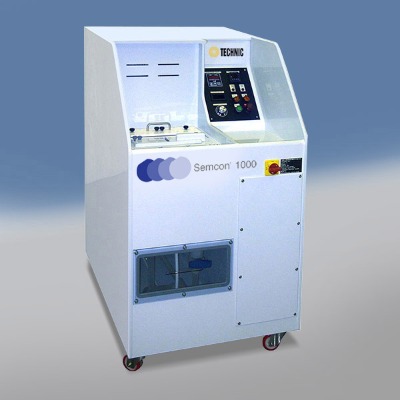 Cranston, RI, USA – Technic's SEMCON 1000 is not new to the market, but its evolution over the past decade has made it the essential tool for wafer deposition evaluation and application performance testing.
The SEMCON 1000 has been designed and developed specifically for research and low volume applications testing and production. The tool features a single plating cell along with a dragout rinse cell, to enable plating/electroforming of wafers or discrete parts when used with a customized holder. The SEMCON 1000 is capable of processing several different plating applications on a variety of substrates including Si, GaAs, InP, and more.
The SEMCON 1000 is modeled after Technic's highly successful SEMCON 2000 series of manual wafer wet bench tools. The process cell and chassis are designed for easy and effective maintenance and process changeovers. The SEMCON 1000 is self-contained, constructed of white polypropylene with a clear PVC process cover designed to meet class 1000 cleanroom specifications. Plating cell components include a heating source, temperature control, low-level safety sensor, pump and filter, DC power supply, and a plating rack.
Technic is a global, full-service provider, with a complete line of proprietary plating solutions and processes for wafer-level packaging as well as analytical services and support.