New

Electrolytic, High Phosphorous (>10% P)
Nickel Alloy Process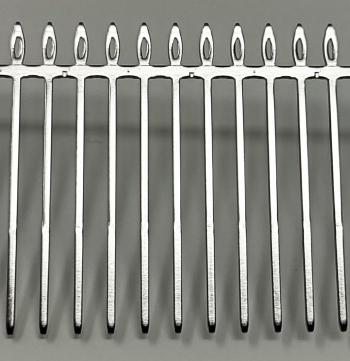 Technic has announced the commercial release of Techniphos 615 electroplating processes for electrical and electronic finishing applications. 
Techniphos 615 is an electrolytic nickel/phosphorous (NiP) plating process that produces > 10 % phosphorous over a wide current density range. Unlike typical NiP processes that exhibit low phos content at high current densities, Techniphos 615 represents a truly unique formulation that outperforms anything currently available.
Techniphos 615 is recommended for all applications requiring an electrolytic NiP alloy with greater than 10% P. One of the more significant values for Techniphos 615 is its demand in the growing 5G applications markets by meeting the requirements for a lower degree of magnetism.
The ease of implementation and operation of the Techniphos 615 process in a wide variety of applications, coupled with its outstanding performance, is of significant value to many of our customers. The generation of a uniform elevated phosphorus deposit across a wide current density range has proven to be of great interest and potential in the industry.
                         – Eric Smith, R&D Chemist, Technic Advanced Technology Division  
Downloadable Files