Black Knight – Proprietary Colloidal Graphite Direct Metallization
Black Knight is a next-generation direct metallization for flexible and rigid printed circuit boards. The process is a proprietary colloidal graphite designed to eliminate coverage and stability problems typical with older graphite and carbon-based systems.  Black Knight is a 3-step process: conditioner, graphite, and post-dip. The conditioner and advanced graphite colloids are unique to the Black Knight system yielding superior coverage of difficult to plate dielectric materials like LCP, PTFE, and polyimide as well as advanced products with blind and through micro-vias.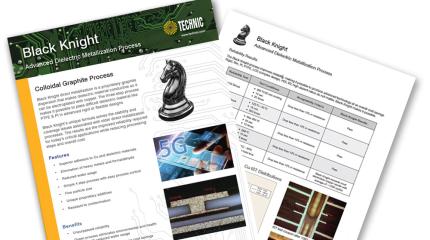 Black Knight Features
Unique conditioner for improved coverage of difficult to plate dielectric materials
Next-generation graphite colloid
Improve coverage of die-electric materials
Improve stability resulting in longer bath life
Improved tolerance for contamination
Simple 4 step process with easy process control
Reduced water usage
Elimination of heavy metals and formaldehyde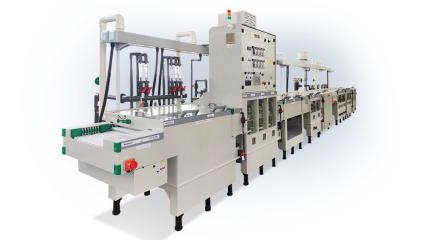 Black Knight Horizontal Graphite Process Equipment
Technic's graphite metallization processing equipment, currently offered in China by ECE, is a conveyorized processor for thin, flexible materials in sheet form. The equipment is capable of processing down to 100-micron copper clad flex and designed for blind vias down to 50 microns in diameter.
Available configurations:
TC-EG-SS10 - One pass designed for through-hole with 10,000 M²/month capacity
TC-EG-SD10-0 - Double pass designed for blind via with 10,000 M²/month capacity
TC-EG-SD20-0 - Double pass with high speed designed for blind via with 24,000 M²/month capacity